2.
the time of my life
A couple of months earlier I had moved out here to the middle of nowhere: to my own home with no near neighbours where I could do what I liked. I felt immense freedom away from my previous life, renting a house in a coastal suburban development of empty holiday houses and retired people, who mainly seemed to stay inside their houses in front of their TV sets, only emerging to mow already immaculate lawns.
After the move I was utterly exhausted for weeks. During the huge task of packing up my studio, moving and storing furniture, and cleaning a three-bedroom house in my weakened state, I had learned to look at the next step ahead and not at the mountain in front of me, and just keep plodding, no matter what: one step…and a rest…and a bit more…
Slowly I regained some energy and began to plan what I could do while I continued with the remaining months of treatment. I write in my journal:…the fog has cleared a bit this morning and I want to try and see ahead a little bit and make a plan for the next four months or so to try and use this time creatively and constructively. I've moved and nearly recovered. What now?
I had a gap of four months until I finished the treatment. I couldn't do much physically–I could hardly drag myself around some days. Slowly I worked at collecting wood for the slow combustion stove that heated the kitchen, cooked my food and made hot water; planting some vegetables in the garden and trying to keep the animals out; getting some guttering up to catch rainwater to fill a new concrete tank I was finishing off. Again and again I overdid it by letting my mind push my body too far. The critical, perfection-seeking overseer I had inside me goaded me on to ignore the pain and fatigue and work a little harder, a bit longer, but then I would be utterly exhausted for days. Was this healing myself? Couldn't I be kind to myself, as I liked to try and be to others?
I write:… Priority no.1. Heal. Get better–go for it. This is a time not only to re-evaluate but to see how I've ignored my limitations for physical endurance and capacity to absorb stress and I must change my habits of running full tilt then falling in a heap. Everything I've tried to do in the last few years has been flawed by my condition–depression tiredness illness etc…
The house overlooks the valley from a flat bit of rocky ground on a ridge, above a creek-bed of angular grey stones. I have made a clearing in the forest around the house, and from a big window in the kitchen I can look out over the trees to a small, tree-covered mountain at the end of the valley where the creek runs into a small river.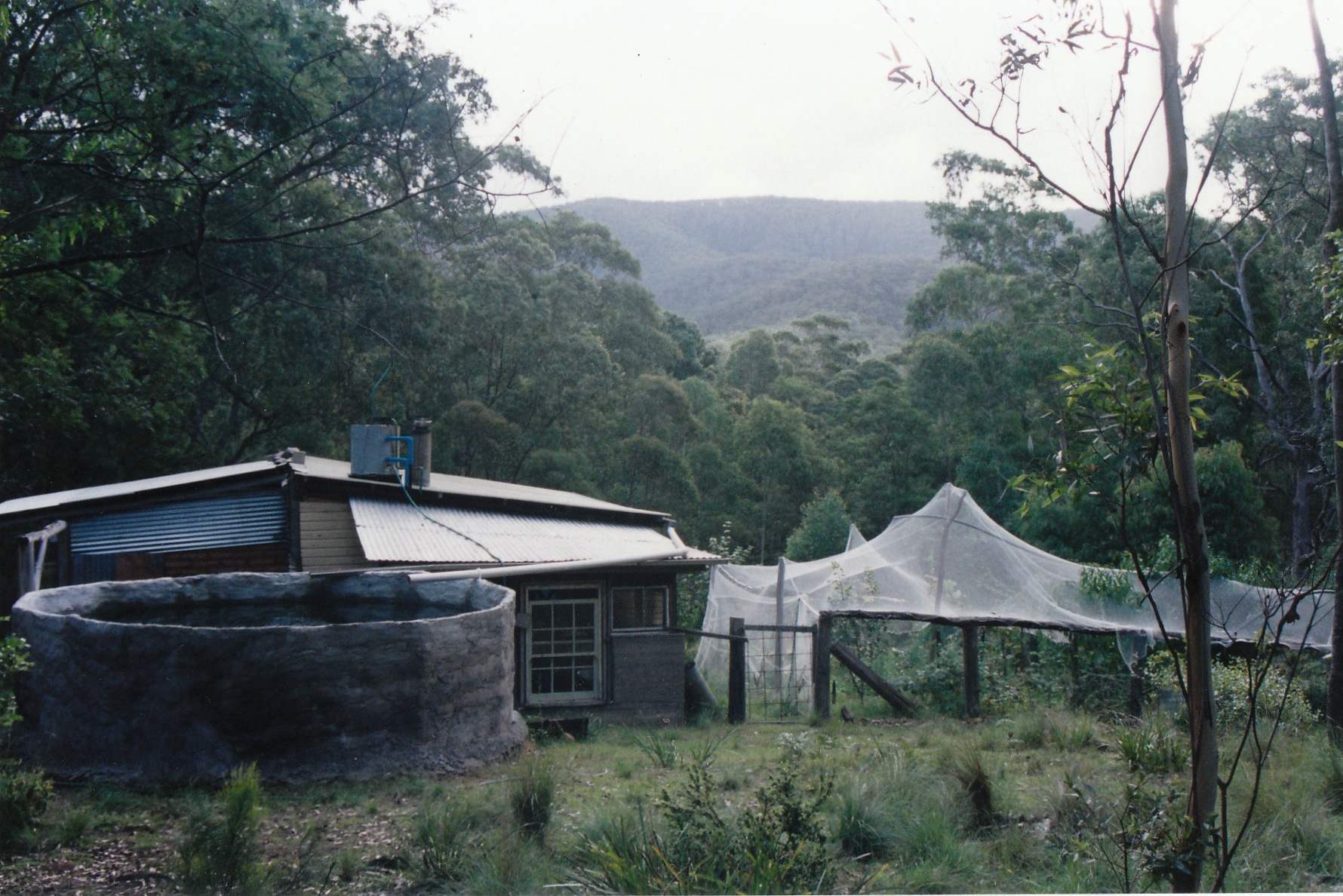 This is a dry ancient landscape of rocky ranges and steep ridges. Over millions of years the rains have worn the mountains down to stony skeletons and carved deep winding valleys. Apart from small flats along the creek and flood plains near the river, the soil is thin and poor, washed away by countless floods, burned to dust by roaring wildfires, blown into the Tasman Sea by the wind. Many species of eucalyptus trees send their roots deep into the stony ground to find nutrients and water. The cool moist gullies shelter tree ferns shading delicate maidenhair and flowering creepers. Small prickly shrubs with tiny flowers and fruits grow on the hillsides.
For thousands of years indigenous people travelled through these mountains on their journeys to the high country above. A century ago, gold miners came and went leaving deep holes and shafts for the unwary to fall into. A few tough farmers tried to clear and fence the land to graze cattle and were defeated by the poor soil, the harsh and unpredictable climate, and the isolation. The land became empty of people again and the hand-split post and wire fences burned and lurched over as the bush reclaimed its territory. For half a century, the valley was only disturbed twice a year by the cracking of whips as a few half-wild cattle were driven down the river valley to graze along the flats. That way of life came to an end too, and now the river valley and surrounding land is a National Park: a wilderness, too steep and barren and wild for people, home only to kangaroos, wallabies and wombats, possums, bats and gliders, echidnas, bandicoots and tiny marsupial mice, snakes, skinks, goannas and frogs. The bush is filled with the calls of many kinds of birds: lyrebirds, currawongs, magpies, kookaburras, huge black cockatoos, and many more. Introduced species also compete with and prey on the natives: feral cats and foxes, rabbits and rats. At the top of the food chain is the dingo, believed to have arrived in Australia about ten thousand years ago, probably accompanying humans in boats.
The coldest days of winter were past and some rain had broken the winter-long drought. I was fairly well set up and reasonably comfortable, with water in the tank, some fresh food coming on in the garden, and a pile of firewood. I relaxed into the healing safety of the bush. I did not have to worry about keeping up some semblance of a normal appearance, or what the neighbours might think. The main treatment drug I was injecting myself with, Interferon, was notorious for causing many kinds of psychological side effects, and I had been warned that people had experienced extreme mood swings, become violently aggressive, depressed and suicidal, among other things.
The drugs stimulated my mind tremendously, and it was very difficult to relax and try and get some rest, let alone sleep, even with sleeping pills. Many of my muscles were constantly tense and sore, and the tension I carried in my shoulders, arms and hands was amplified. When I got tired the balance would shift into negativity, and the scenario my mind had seized upon to replay went over and over and over. Negative comments from people or misunderstandings, incidents from the past where I was bullied or unassertive, where people took advantage of me or I failed in some way played on constant rotation inside my head. During the day I could try to focus my attention on what I was doing, bringing my mind back to the present again and again. In the middle of the night, when I was exhausted, yet unable to drift off into the bliss of sleep, I was defenceless. I could only turn to music, and the best thing I had was a portable CD player I could listen to in bed, keeping me company through the many cold sleepless hours.
Gradually I began to view these last months of treatment as something not just to be endured by gritting my teeth, but as a time of healing. It was a golden opportunity to really see the way my mind was working: what was going on all the time, without distractions, and magnified far larger than normal. A unique opportunity to stop doing things, when I could sit and look at my life and try to work out why–why I kept falling in a heap, even though I had tried changing everything external. Why depression followed me around like a stray hungry dog. I could plainly see the damage to my mind, and most importantly, to my confidence, and the crevasse gouged out during my adolescence. The crevasse I kept falling back into when pushed off balance by rejection, loss or perceived failure. If I lost my balance I could fall into a self-reinforcing downward spiral, fuelled by fear of what had happened in the past: fear of free-falling again and being unable to pull myself out of it.
Reading back through my journal I saw that I often made decisions as reactions, and one bad decision led to another. I couldn't make good decisions with a sick mind, so I might as well do nothing, and try and have as decent a time as I could. I dropped my expectations and relaxed, deeper and deeper. I also began a life-changing shift of focus, learning to stop letting my mind dwell on the physical pain from many sources, the mental pain from the past, the guilt for my many failings. I stopped feeling sorry for myself and began to see I had an opportunity to propel myself through this: an opportunity for growth.
During the day I played some of the old scenarios from the past that kept plaguing me out as psychodramas, resolving them as I wished I had done at the time, expressing my anger. I talked to myself. It would have looked like madness to an onlooker and it was–but it was the madness I knew was in me–the sickness that had to come out before it poisoned me finally, and I was struck down with cancer or liver disease or something else brought about by a weakened immune system after years of depression. I stopped looking at Hepatitis C as the cause of my misery and began to see it as another symptom. The root of my dis-ease was the underlying damage, and unresolved grief from my childhood and adolescence.
…Been here a month now and physically I'm starting to improve…those maddening little things slowly getting a little bit better. Learning not to tire myself out and feel that dreadful awful tiredness where every little thing is almost impossible. Been a bit depressed for a while– a number of things–life is a bit joyless and Spartan…it's spring–less than three months to go, So what's the plan? Where to? Just watching the incredible tension that's always in my body…compulsive crossing legs holding hands and tensing the shoulders. I was thinking that it's a protection of my vulnerability from the hardness of the world…It's very difficult to remain focussed on what I'm actually doing or being–I'M TRYING TO HEAL MYSELF. All else is secondary…
I felt I had shut off my emotions behind an impenetrable grey brick wall, a wall cutting me in half. I had lost the ability to feel grief and express sadness, to cry–but also to feel deep joy and contentment. I was in limbo, in no-man's-land.
I began to try and complete this process of mourning by expanding the few memories I had access to, following feelings and emotions, images and scraps of memories down as deeply as I could.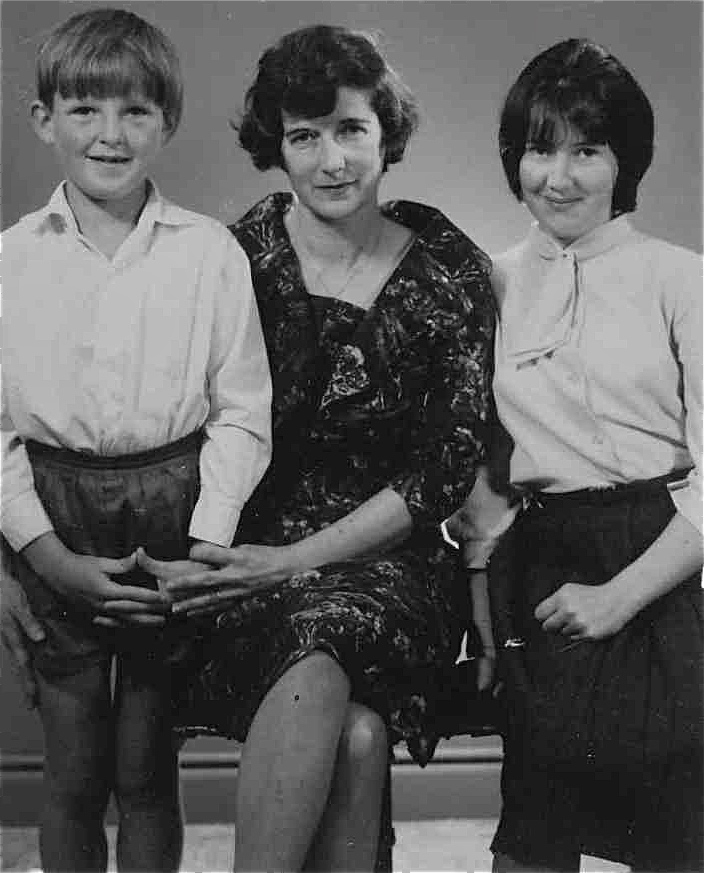 me, my mother and my sister, Canberra 1964
When I was 10 years old we lived in Greece; my father's first overseas posting in his job with the Australian Department of Immigration. A year and a half earlier we had arrived in this foreign country: my father, John, or Jack as he was known to his family, my mother, Dawn, and me. My sister Rosemary, five years older than I was, had been left behind in Australia at a boarding school. After the excitement of the flight from Australia was over, I resented the upheaval, leaving behind my sister and the first stable home and school I'd had for several years, after four different homes and half a dozen schools in the previous couple of years. I dreamed about somehow returning to Canberra. We spent the first few months living in a hotel in the centre of Athens, until a suitable house became available to rent, and I remember my mother found it very chaotic and stressful trying to find her way around when she couldn't speak the language. She had a lot of trouble trying to sleep in the middle of the very noisy city after the quiet suburbs of Canberra. I remember seeing earplugs and sleeping pills beside her bed, and her difficulty trying to decipher the alien alphabet to catch the right bus to take me to the beach at Marathon to burn off a bit of energy. I'm sure she was worrying about leaving my sister in Australia and missing her, and no doubt I was driving her crazy, a very active boy used to a lot of space, cooped up in a small hotel. I remember getting a talking-to because the management had complained I was spending hours going up and down in the hotel's only elevator. Finally a house became available in Papagos, a quiet wealthy suburb on the outskirts of Athens at the foot of a small rocky mountain covered mostly in scrubby herbs and shrubs called Mount Hyemttus.
I soon abandoned my mourning period and began to enjoy myself, as I settled into St Catherine's British Embassy School,  a hundred students squashed into a large rambling suburban house. The school was very English, although the kids came from many different cultural backgrounds and from all over the world. I soon fitted in and began to thrive in the small classes, with well-travelled, dedicated teachers, and after a few months I was at home, and life in Australia was a fading memory. On Tuesdays and Thursdays during the hot summer months we finished school at lunchtime, which meant I had the long hot afternoons to do whatever I wanted in freedom.
I was obviously a foreigner with my fair hair and foreign clothes, in a strange country with a different language, but I mainly felt confident and safe in this new world. I was unaware of the bubbling cauldron of political tensions simmering away underneath. I remember seeing the huge amount of strident graffiti daubed on walls, which often had broken shards of glass set into the top of them to deter thieves, most unlike tidy conservative Canberra. I had desperately longed for a bike for years, and I finally talked my parents into buying me one, and at last I was free to explore the surrounding quiet neighbourhood. I soon absorbed enough Greek to get around, unlike my parents who were finding it a struggle to learn the language. I was often sent off to the shops to buy things. The Greeks loved kids, and particularly loved Australians. Many Australian soldiers had lost their lives in Greece during World War Two fighting the hated German invaders. After the war, and the vicious civil war that followed, millions of Greeks left their homeland to try to find a better life in a new country. Everyone seemed to have a cousin or sister or uncle living in Australia. I got used to people scowling at first when they misunderstood you, and thought you were saying you were Austrian; then it would be all smiles as you said No, no, Australian, Melboorne, Sid-en-knee. Sometimes they would insist on inviting you to sit at a table on the grapevine-covered patio of their small modest houses, olives and feta cheese and homemade wine quickly appearing while you were being shown photographs of the relatives in Australia.
I knew with absolute certainty that this was the best time of my life. I had some kind of premonition that I should make the most of every moment, an inner wisdom urging me to savour this time when I was neither a child nor an adult, free and without responsibilities. I remember being very happy. I loved to write stories and sing in the choir at school. I loved playing for hours in my fantasy world, climbing trees and clambering up the drainpipes of our two-storey square concrete house that had an iron spiral staircase on the outside up to the flat roof, and three upstairs bedrooms with balconies. There was a large open area of rambling, half wild parkland across the road to explore on my bike. Not far away was a large white Greek Orthodox church, where priests with long beards in black robes and hats broadcast droning, half-sung services from loudspeakers lasting hours.
I remember mum cooking me pancakes one day when I was very hungry, and appreciating that she was happy to stand at the stove cooking me pancake after pancake, enjoying the sight of her son wolfing them down.
Around this time she wrote in a letter to relatives in Australia:
… There has been some difficulty about postage this end–strikes etc. due to the political situation which has been a bit grim–settling down now though I hope–useless putting mail in the box–they stay there weeks. I'm sending this in the embassy bag … Jack is well–very busy. The Greek government is not altogether in favour of immigration and they have a battle to keep things moving … We meet all sorts of people we wouldn't meet normally–I am kept on the go entertaining people of all nationalities connected with immigration–I am grateful for my languages, though they are very rusty. Greek is hard. Jack is taking a "crash" course, it's essential he learns quickly. I am getting by on the Greek I'm picking up here and there–only just! A lot of the more educated Greeks speak French or German which is a help… I have a Greek woman coming once a week to help me–speaks no English and it's difficult to get across what you want done. It's a very doubtful "help"–much easier to do it yourself. Her way of doing a floor is to take a bucket of water and let fly!
Rosemary will be over in a few weeks for Xmas hols–dying to see her–we miss her so much. We may have a 'white Xmas'–getting quite cold at night…Peter is happy at his school and is getting on quite well now–the school is very British–scarlet blazers and 'Rule Britannia'–very strict! There are children there from the embassies of all Commonwealth countries so he should end up with a broad outlook on things …
We are getting used to Greek food gradually but find the olive oil and goats milk cheese rather hard to take. If you eat in a restaurant everything is swimming in oil–Jack's digestion suffers though he likes Greek food. We settle for a compromise at home. We get an order from Denmark every two months so we stock up on most the things we're used to at home. All round we do pretty well. Meat is a problem–we have to get used to veal. The local butcher calls everything "bifstek" but it turns out to be veal after all. They just hack a lump off–no idea of cutting a joint or even chops, so you have to take pot luck. I decided last week to make a steak and kidney pie–wishful thinking! Couldn't make him understand about kidneys even though I pointed to my back and even drew one! We settled for veal pie without the kidneys! Fruit and vegs are very plentiful which is a blessing–Greece is famous for its fruit–we've had grapes, figs, melons etc in abundance this year…
One day I came across a bunch of boys giving a small, terrified kitten swimming lessons by throwing it into a large pond in the park. The half-drowned kitten swam over towards me, and I fished it out of the water and ran off with it, and smuggled it home, the first of my collection of stray cats. I loved animals, and one day befriended a bony donkey that had broken its tether and was wandering along the street. I lured it home into the backyard and was about to mount it from a ladder against its flank, while it ate some apples, when I was apprehended by my father, who was not very impressed by my idea of keeping a stolen donkey in the backyard. The story was popular for a while at get-togethers among the small group of families of Australian Embassy and Immigration Department staff.
There were a few other Australians and English-speaking kids in our area, but none really my age or living very close to us, and I spent lot of time by myself on weekends, and afternoons after school. To the horror of the gardener, I would construct cities with canals and moats in the neat rose gardens around our house, staging vast epic battles with toy soldiers and models. There was no TV, and few English language movies or other forms of entertainment, and I read a lot of books of all kinds; devouring adult novels, horror stories, poetry, history and archaeology, and many classic English children's books from the school library. I was fascinated with the layer upon layer of history that successive civilizations had left on this country, and in my room I had a museum with displays of my archaeological discoveries and other things that had caught my interest: shards of painted pottery and pieces of marble that seemed to be everywhere; rusty bits of shrapnel and bullets from World War Two that could be found on Mt Hymettus; shells, sponges and stones from the sea, and other treasures.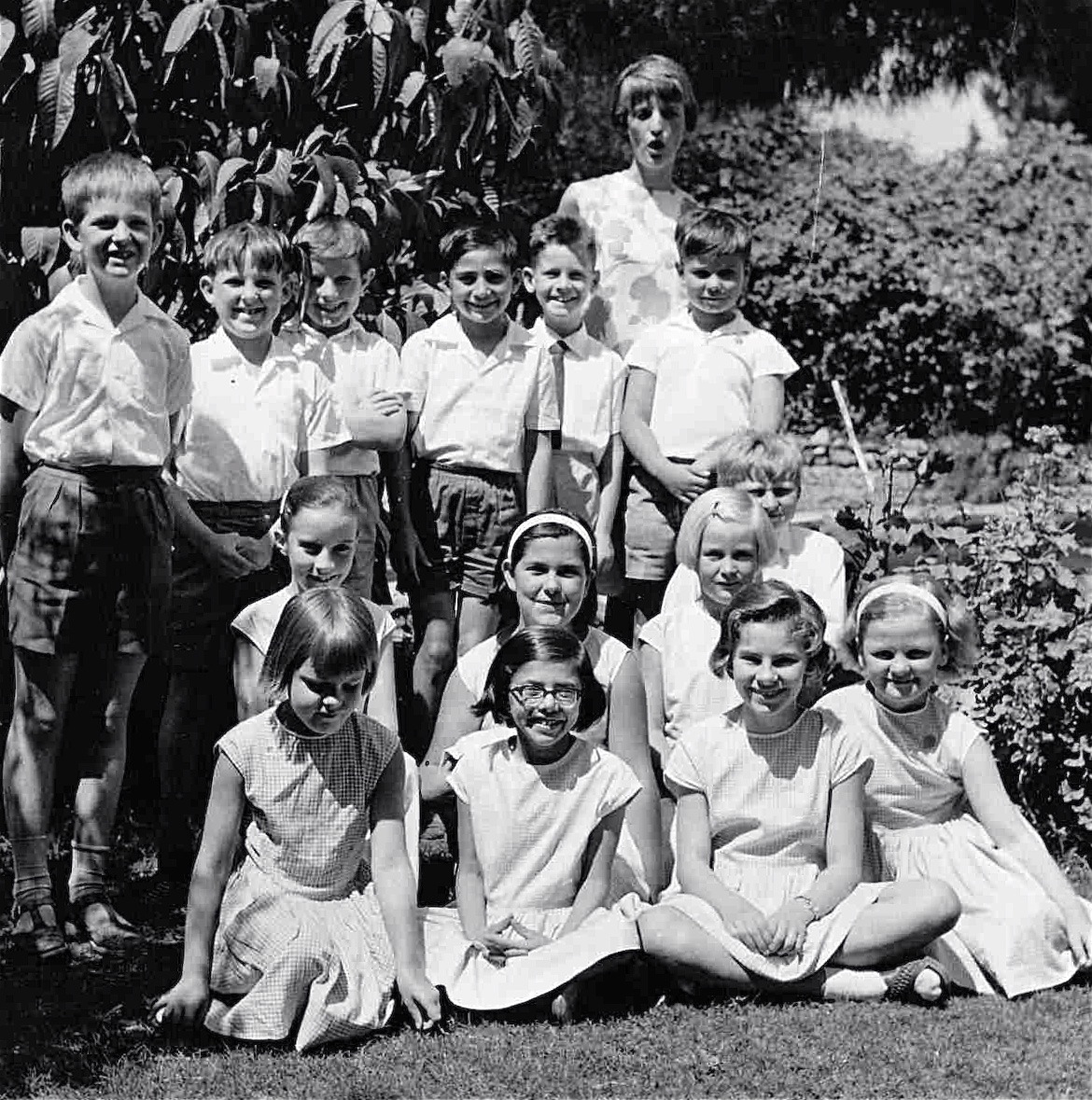 St Catherines's British Embassy School, I'm standing second from left
The photos taken at school at the time show me looking relaxed and confident. I was very happy playing football with the boys, or kiss-chasey with the girls, or being on my own to make things, to think and dream. I wrote long involved stories and my first poems at this time, as well as building model gliders from balsa wood to launch off the roof, or boats to sail in the pond across the road. One day I experimented with constructing a hot air balloon, involving a brown paper bag and some cigarette lighter fluid. It went rather well with a lift-off and a satisfying conflagration at the end, but unfortunately I had conducted the testing in my bedroom, and burned a large mark on the polished wood floor. My scientific ingenuity was not appreciated. I remember being unshakeably confident at that age: I knew that I would undoubtedly succeed at anything I chose to do.
We holidayed a couple of times on a little island in the sparkling deep blue Aegean sea called Spetses, and every morning we would catch a fishing boat ferry over to the mainland where there was a sandy beach and a café and, best of all, little boats for hire. I was a strong swimmer and my parents could relax on the beach while I spent hours happily exploring, discovering the creatures who lived in the sea that was so calm and placid with almost no swell, compared with Australian beaches. I loved the Mediterranean, and I remember floating in small deep rocky inlets, looking down, down through the crystal-clear water to the bottom many metres below, weightless in the salty buoyant water like you were flying.
I was very aware of the music that was everywhere, and on holidays I was allowed to stay up late in the open-air tavernas, spending hours having dinner in relaxed Greek style. I saw live bands for the first time, with bouzouki players playing traditional dances and Greek pop songs, sometimes picking up an electric guitar to play some of the new rock'n'roll songs from the radio. I grew to love the fascinating blend of east and west that is Greek music. It seemed very sensible to me that everyone shut up shop and had a siesta for several hours in the hot summer afternoons, and then they could eat and drink and talk and promenade till midnight, and kids could too.
I had some experiences that opened my eyes as to how fortunate I really was. In wealthy Canberra, everyone was healthy and well-dressed, and lived in brand-new neat houses along smooth, tree-lined streets in perfectly planned suburbs. On the worn old footpaths of the dirty city streets of Athens were scruffy downcast men, often blind or missing limbs, selling single cigarettes and boxes of matches, and beggars. One day while wandering around the foothills and gullies of Mt Hymettus, I came across a ramshackle village of rough shacks and dirt lanes with herds of goats, tended by barefoot children in ragged clothes. This was a scene that could have easily been from the time of Socrates: the dispossessed and landless poor grazing their animals where they could. I was amazed that this poverty could exist so close to my spacious and elegant two-story villa in a quiet wealthy suburb, and it began to open my eyes to how poor many Greeks were. Soon after this, one day during kite flying season I saw some boys flying a small tattered kite that came down and got tangled in some bushes close to me and I went over to try to free it. A shaven-headed boy appeared with ragged clothes and bare feet. He immediately interpreted my actions as an attempt to steal or break the kite and attacked me. My Greek wasn't good enough to explain to him that I had just been trying to help them. He was shaking with rage and we wrestled for a while until he grabbed his kite and left with his snotty-nosed brother, still crying and swearing at me. The fact that he had instantly assumed the worst said a lot to me about his life.
My sister came over from Australia to live with us again after being bitterly unhappy at boarding school, and began attending an American high school in Athens. The house now had new sounds of the Beatles and the Rolling Stones floating down from her bedroom that she had immediately covered with posters. Every morning a small old English car driven by a small old Greek taxi-driver collected me and a couple of other kids, in our bright red blazers, to take us to school.
One afternoon I came home to the news that my mother had collapsed on the street, and was in hospital. I wasn't being told much at all, but I just made the best of it and tried not to be any trouble, certain that things would soon return to normal when Mum got better and came home. I was farmed off to stay with families of school friends. After a few days of tests it became clear that her condition was not some minor ailment, and she was flown to London, where the mysterious phantom illness she had been afflicted intermittently with for some years was finally diagnosed as Multiple Sclerosis.