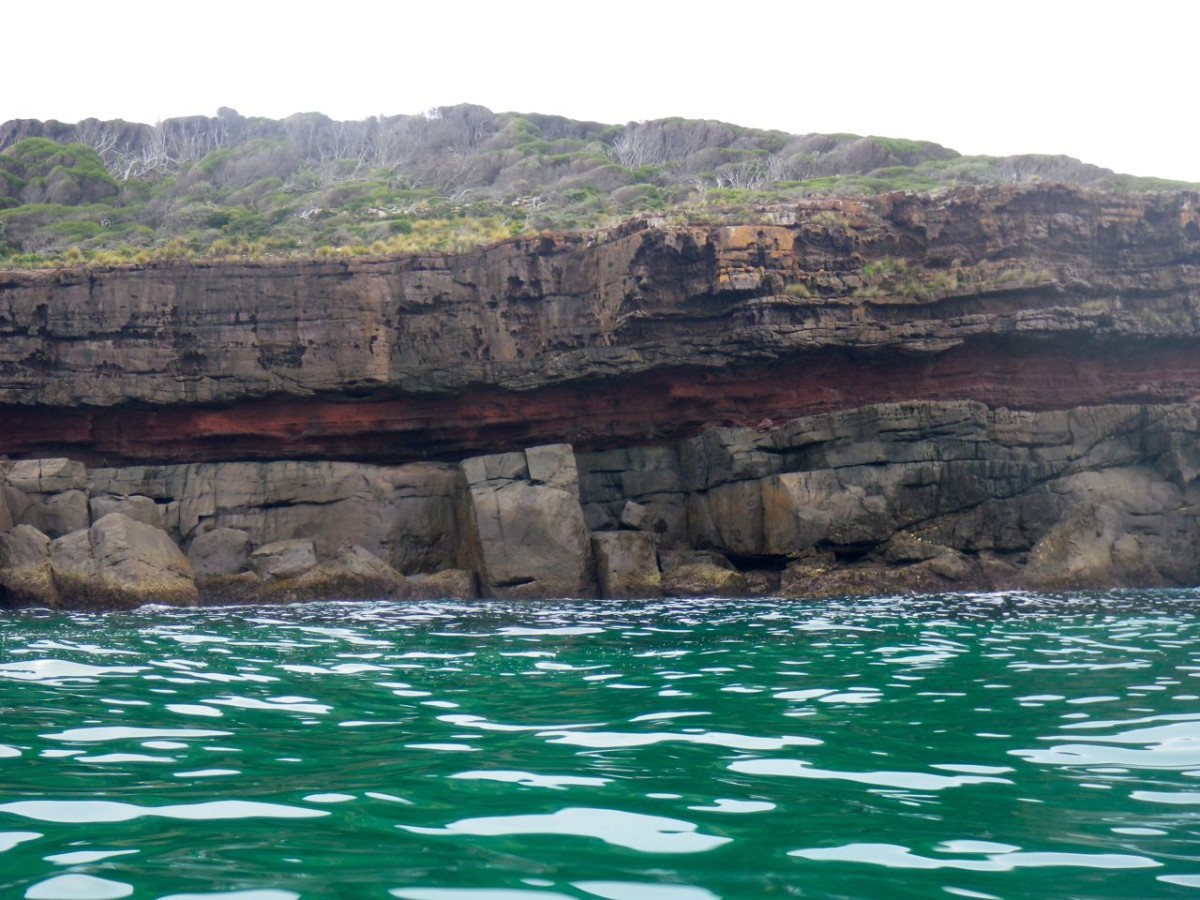 A remarkably calm day off Nadgee wilderness
The wave reared up out of nowhere, 7 or 8 feet high, curling over perfectly to land on my fully loaded kayak nearly broadside to it.
Immediately I was under water clinging to my paddle that had taken a mighty wrench from the force of tons of water falling on me. I got the boat into position to execute a roll but something was wrong. I glimpsed through the churning white water the black shaft of the paddle ending in nothing, where there should have been a large white fibreglass blade. I knew another wave would land on me any second. With only half a paddle my chances of executing a successful roll were slim and I was a long way from shore. I gave it my best shot….
Since I started venturing out to sea in a kayak, I had dreamed one day of a solo voyage down the rugged coastline of the far south coast of NSW and NE Victoria, well known as a challenging and rewarding paddle.
I was pretty fit from surfing and I did some hard paddling and practised my skills up to a good level. My boat needed an overhaul, and I spent a lot of time reconditioning the bilge pump, replacing all the bungee chords and deck lines and I bought a spare paddle. I also modified the sail I had made some years ago making it a bit smaller and easier to use.
Where I was going there were no shops. I planned for 15 days food with several extra days at least of basics, and I started out with 18 litres of water, enough for 4 and a half days. This proved to be a bit much and I later cut down the amount of water to save some weight. With 25 kgs of boat and 75 kgs of me, I started out pushing 160 kgs along through the water- a heavy load difficult to manage in strong winds and very hard to haul out of the water on a beach. I learned a lot about packing and making sure everything heavy went into the rear watertight compartment- having weight in the front meant the boat became even more unruly with wind and waves and it gets tiring very quickly having to keep turning every second stroke because the boat is trying to broach up into the wind.
I set out from Aragunnu, Mimosa rocks National Park, and set off in light NE winds of 10-15 knots and a reasonable 2 metre swell. It was early Autumn, a time of usually fairly settled weather in this area. I paddled for over an hour to get the feel of the heavily laden boat, and then hoisted sail and continued on down the coast. By the time I reached Tathra it was late afternoon and I knew conditions could be quite different as I rounded Tathra head and was exposed to the larger swell bouncing off the steep cliffs and a current churning the sea up making for very chaotic paddling.
I was quickly relearning some lessons of ocean paddling. I kept coming too close in to shore and cutting the corners too fine in the process,- copping the rebound swell that can come from several different angles at once depending on the type of shoreline and height of swell. Combined with the wind, breaking waves thrown up by the wind and the original swell it can be very difficult to maintain control over the boat. It's actually much safer to be a couple of kilometres out to sea in such conditions.
It was getting late as I paddled past Kianinny Bay, when I passed the mouth of a tiny little bay with still deep water and no tell tale foam warning that the occasional bigger set was breaking. I sat and watched for a while and all seemed well and I paddled into a surprisingly calm tiny little beach. I got out of the boat and managed to drag it up out of the waves. I went for a walk and found a place just big enough for a tent and started the long process of unpacking, drying out gear and making the boat light enough to drag up onto a steep rocky shore up above the reach of rogue waves and high tide. I was tired but elated that I had actually done it: set out after weeks of planning and preparation.
Day 2 got underway with the dreaded packing, trying to squeeze everything back in the boat which took several hours. I regretted having so much stuff, still there wasn't anything I could do without so it all had to go back in. By the time I got to the bar of Merimbula Lake the tide was running out strongly and I decided not to paddle in, but beach the boat just outside and walk into town to buy a couple of things I had forgotten. I was stuffed and had an hours sleep on the sand. A friendly surfer gave me a lift into town and I walked back across the sand flats exposed by the low tide. There wasn't much daylight left so I jumped into the boat, hoisted the sail and in the light breeze sailed across the bay to the entrance to the Pambula river in Ben Boyd NP. The weather kindly waited until I was set up and fed before starting down with a drizzle, enough to send me and my tired body to bed.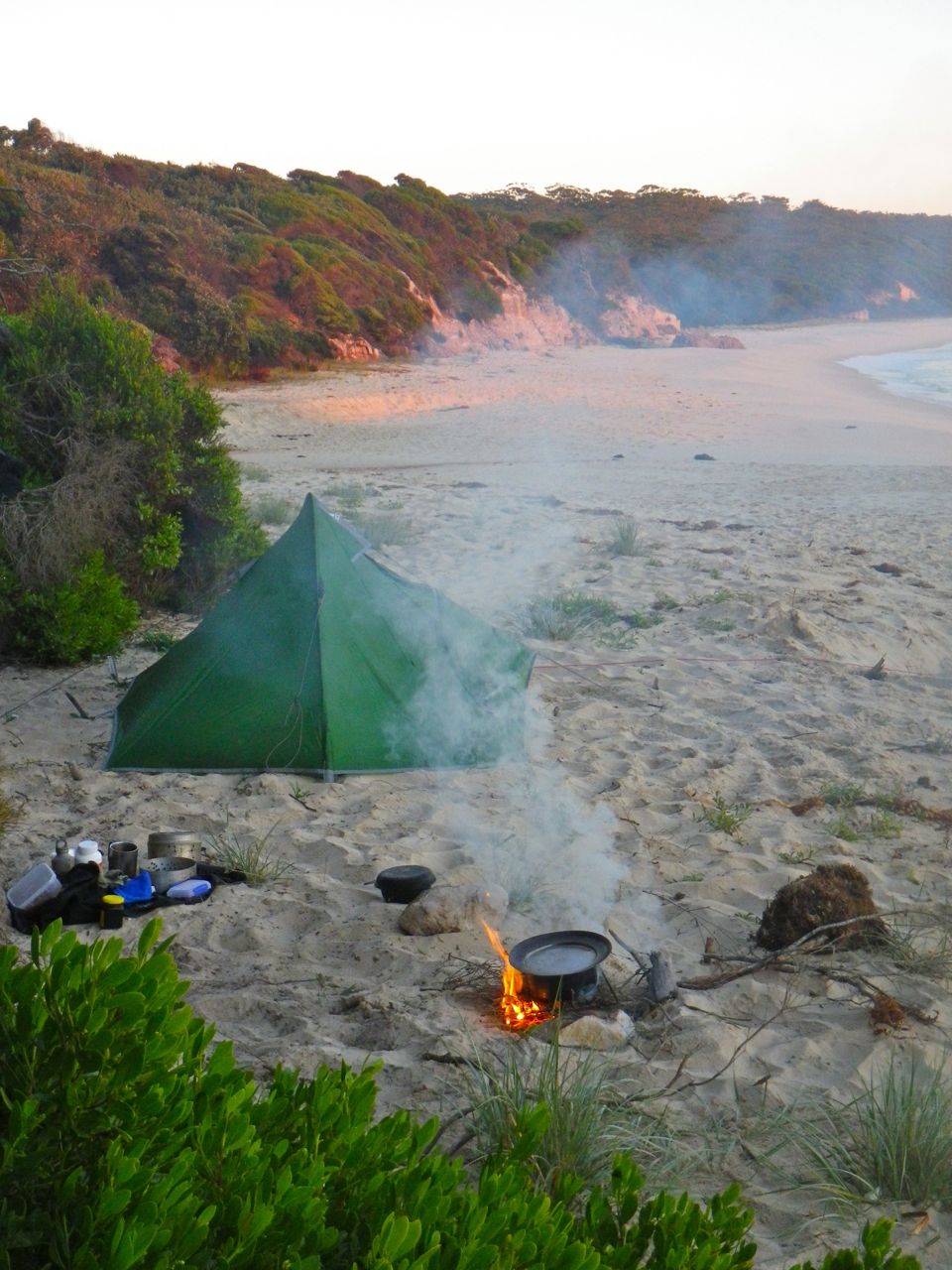 Beach camping, not that comfortable but sometimes the only option
Day 3 dawned bright and sunny and I had a quick swim after breakfast. It was a perfect day for paddling, although the weather forecast advised of winds picking up later so I headed round Haycock Point and down towards Eden along a wild stretch of coast with rocky cliffs and long beaches, thick impenetrable teatree scrub and no sign of people. After nearly 2 hours paddling I was getting hungry so I decided to check out Lennards Island, which turned out to be, at low tide, not an island but with a low rocky beach connecting it with the main land. I crunched the boat in over some rocks, appreciating the fact that my plastic boat came into its own in these circumstances and could handling scrapes and bashes no fibreglass boat owner would dare risk.
I had a leisurely lunch on dry land and waited to see how strong the wind would get, looking around for somewhere to camp in case. I found a little spot just big enough for my tent The sea was now strewn with whitecaps and the gusts were getting quite strong coming from the south where I was heading so I got comfortable and had a good look around. I had an afternoon off and a few things to fix.
The next morning was calm and clear, with a strong wind warning for later in the day. I got packed again and struck out across Twofold Bay, a large deep harbour with the town of Eden nestled inside. The 5 knot NE breeze died altogether and was soon replaced by a freshening sou'easter as the change in the weather came through. I decided to batten my sail rig right down out of it's mounting and stow it securely with as little showing to the wind as possible and set myself for a long paddle. I was more than half way across the 6 kilometre wide mouth of the harbour and heading for the southern tip of Mowarry point. As the wind got stronger and stronger I altered course for the nearest land as it was getting hard to make any headway.
I took shelter in a deep rocky bay with amazingly clear water until the wind had dropped somewhat but I kept in sheltered water as much as possible. I could see a beach up ahead sheltered from the south and as I approached and consulted the map I could see the possibility of an even more sheltered tiny bay tucked right inside. There were a couple of campers there already with sea kayaks and I had a welcome cup of tea before setting up camp. My body was still getting used to the long hours of hard paddling, pushing a heavy load through the water, and I soon went to bed after having a bit of look around.
Day 4 and I was up with the dawn a quick breakfast while I waited for a weather forecast on the radio. Sounded ideal for a good push into Nadgee. The day was perfect: a breath of NE wind not even worth putting the sail up for, and a declining 1 metre swell. Lots of small fishing boats were out which is always a reassuring sign. I'd paddled an empty ocean for the first few days.
I rounded Mowarry point and the wild rocky uninhabited coastline slipped by quickly and soon the unmistakable lighthouse of Green Cape came up. I gave churning seas around the rocks a wide respectful berth and rounded the cape. It was glassy smooth in the lee of the Cape with only a slow swell lifting the boat up and down.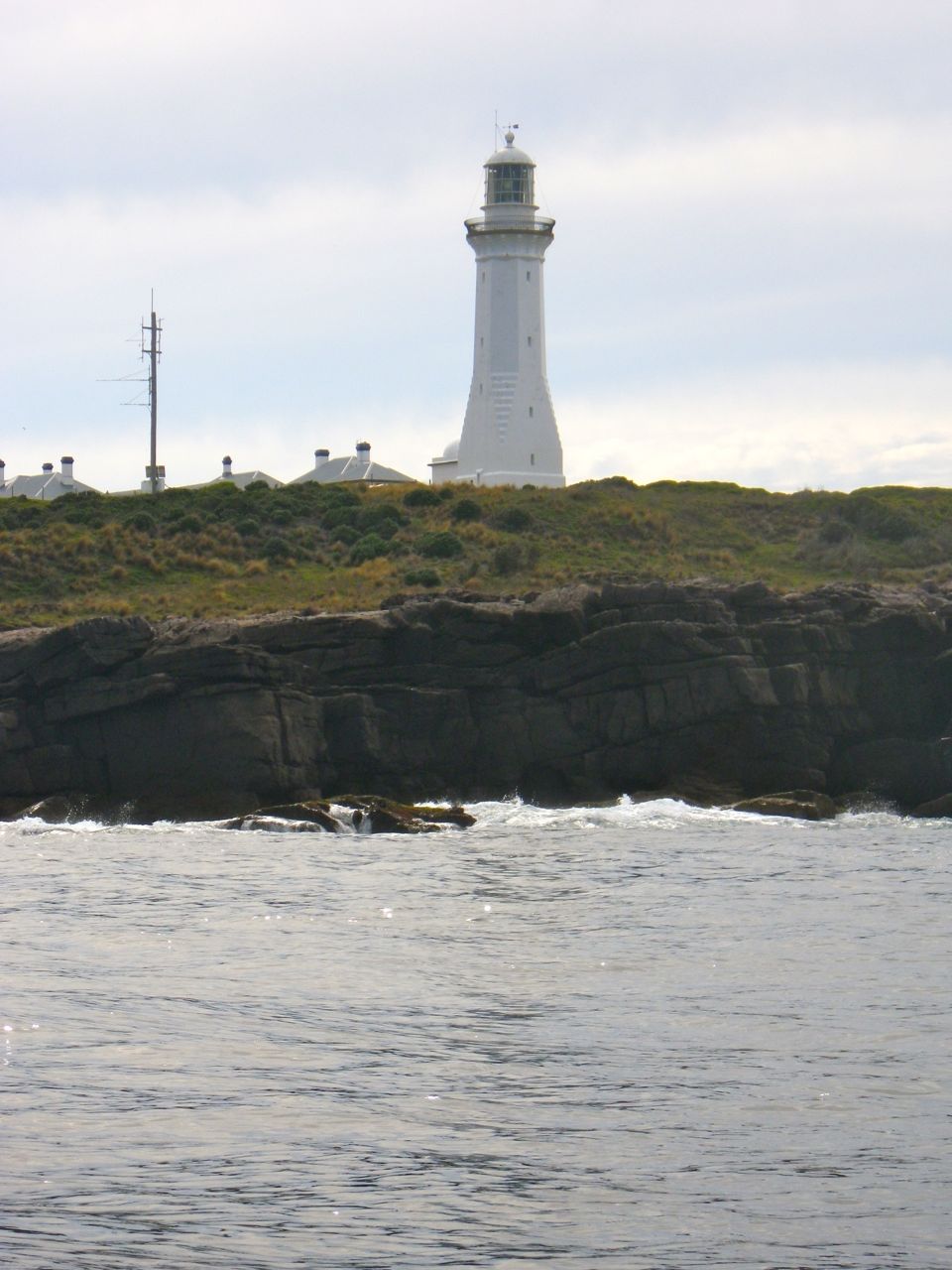 Green Cape lighthouse
I had the luxury of a leisurely lunch in the boat and a good look around while I ate and drank. I decided to paddle straight across the bay to it instead of hugging the coast. I could see a triangular looking black object near me and as I went past I could see it was a group of seals lolling around scratching and nuzzling each other and having a yarn in the almost total calm. Out of the shelter of the cliffs a mild 5 to 10 knot NE breeze picked up a little, and I hoisted sail and sailed across Disaster Bay in fine style.
Stretching south of Merrica river estuary on my left were forbidding lines of high cliffs and a rugged rocky shore. I unloaded, and put my tent up and hopped back into the boat and paddled upriver where I had read there would be a good chance to find some water. I paddled a kilometre or so up through a magnificent steep gorge of rocky cliffs and dense bush. The late afternoon sun was made even more golden orange by the amount of smoke in the air from a bushfire in nearby Gippsland, not far away over the border in Victoria.
I found some rapids where some very drinkable water flowed over rocks down into the salty tidal estuary. I could relax and float downstream enjoying the wildness of the country, old-growth forest with bright orange lichen growing on the faces of large rocks along the river. The sun was setting but I'd done it: reached the edge of the Nadgee wilderness and found a great campsite with plenty of water nearbyr. I could relax and enjoy the tranquil evening and sleep in, as I'd decided to have a rest day the next day. I spent a luxurious warm sunny day resting my tired body, eating, exploring, fixing a few things that needed attention, eating and eating…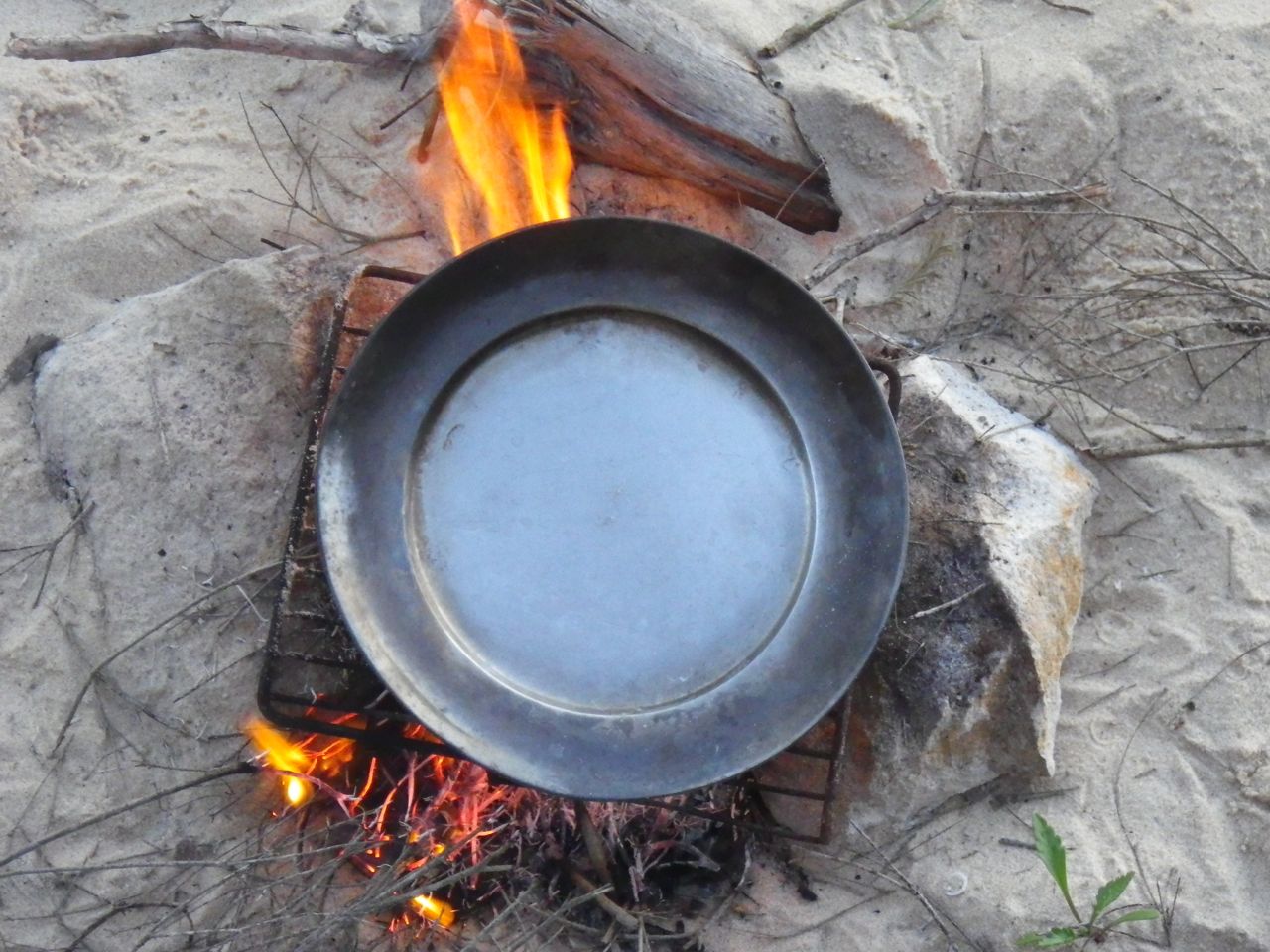 a tiny fire is fine to cook on and leaves little trace
Day 6 and I packed up and listened for the weather forecast to hear there was some wind coming up later. I got out to sea with only the obligatory drenching from a wave in the face but escaped upright and headed south along the rather intimidating coastline of sheer cliffs many stories high broken only by rock shelves and the occasional small rocky niche where huge cubes of stone lay piled after collapsing from the cliffs. There was nowhere to get out in a hurry. I had to trust my skills and go for it keeping a cautious eye on the weather. There was a 10 knot NE wind and I soon had the sail up and sailed down the coast past Newtons beach. I didn't have many options for a destination but kept going past the very exposed beaches.
The wind shifted to a rising SE wind and I decided to keep going to Nadgee beach as that seemed to offer the best protection from a SE swell if the weather turned nasty. Which it felt like it might. I had the sail well stowed and paddled on into the rising sea and wind now gusting up to 20 knots or so. Sea Eagles soared high above the rocky cliffs and ridges gaining altitude, then turning downwind and sweeping along the coast in effortless flight. One of them flew repeatedly over me only 10 meters above , curious about this long strange-looking creature in its territory.
The wind was getting uncomfortably strong and my left arm was getting very tired from trying to control the boat. At Nadgee Beach I sat out to sea watching the breaking waves for a while, and spotted a rip in the middle of the beach where the waves didn't seem to be breaking very often and slipped in without much trouble. I hauled the boat out and up the beach, straddling the cockpit and dragging it underneath me, a foot or two, and then again and again, until I had it out past the grasp of the waves. The swell was coming up and the wind picking up steadily. I was glad to be on land.
The next morning the swell was getting bigger and a steady onshore easterly wind was only going to make it more so. I decided to stay put. It was a good place to stay and explore Nadgee by foot . The wind blew stronger and the swell got bigger, part of a big low pressure system in the Tasman that was to unload torrential rain further north and cause severe flooding in northern NSW around Coffs Harbour. Down here it just blew nonstop day and night for 3 days, until the swell thundered onto the beach pounding the cliffs with massive booming blows that you could hear and feel several kilometres inland. The beach was a mass of churning white water. There was no way I was going out in that for a while.
I walked inland along bushwalking tracks and old roads to Harry's Hut, built in the 1950's by a fisherman at the site of a homestead built in the mid 19th century, and burnt down in a bushfire during the 1930's. I marvelled at the strength and tenacity of the people who lived here 150 years ago without vehicles, chainsaws or any form of communication faster than a horse. I read a history of the attempt to clear, graze and fence the land, and read how one day 27 inches of rain fell in 24 hours and a massive flood carried away a lot of the fencing on the flat built so painstakingly with axe and wedge, shovel and crowbar, with only horse and bullock for help.
The path back to the coast was through areas of heath land with only shrubs, tough bushes and banksias, once burnt off every year for cattle to graze on the new shoots after the fire. It reminded me a lot of parts of Kosciusko NP.
I was conscious that I was a long way from anywhere and any help if any thing went wrong. I'm used to this as I spend a lot of time in isolated places, and I love the absolute solitude and a clearing and emptying of the mind that comes slowly after days removed from the endless chattering input of modern technological life . The awareness of absolute self reliance also brings a heightened focus on the present moment. I was conscious as I walked on slippery wet rocks near the beach when I went to wash the dishes that I'd better stop wool-gathering and pay absolute attention. A fall causing any injury would be serious.
I was finally alone. I the day I arrived I'd seen some other fresh tracks, Robinson Crusoe-like; boot prints on a deserted wilderness beach where the only other tracks were made by birds, wallabies and dingos.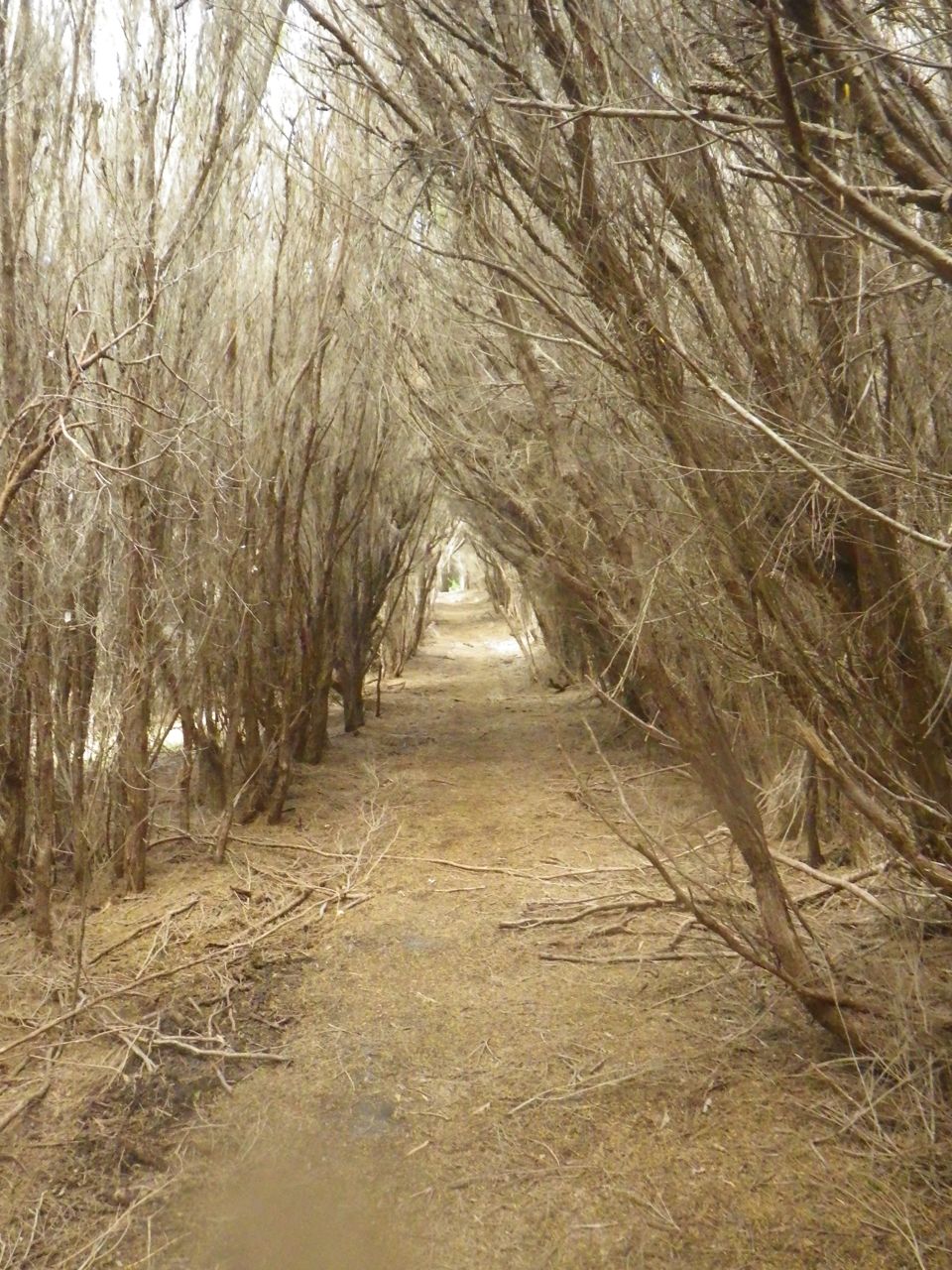 a walking path in the Nadgee wilderness
One sign of human activity is always present- rubbish. On every deserted pristine wilderness beach, no matter how far from anywhere, is the obligatory crop of plastic and glass bottles, fishing ropes and net, strange bits of foam and plastic weathered almost beyond recognition. It's sad to see the ocean still treated as a giant garbage dump. It's the ugly side of our fast-food, consume-and-dispose life style: millions of plastic containers manufactured daily for a single use with no further responsibility taken by manufacturer, retailer or consumer, just for the consumption of a single drink. Crazy capitalism!
I could have filled the kayak many times over with rubbish, and later on past Cape Howe I was to see among many other things: a large wheelie bin; a divers' air tank; several large fishing crates; buckets lids and tackle boxes, along the beach and up to several hundred meters inland, blown off boats by the ferocious winds.
The days passed and the wind blew and the swell pounded and thundered. I amused myself with exploring, modifying my sailing rig and doing nothing, a much-maligned pastime. I dragged the kayak into the estuary from the beach and paddled up the silent river where only birds watched me nervously and fish leaped out of the water in amazement. Schools of mullet churned the water as they simultaneously took fright as a single consciousness. The loud calls of the sea eagles became very familiar.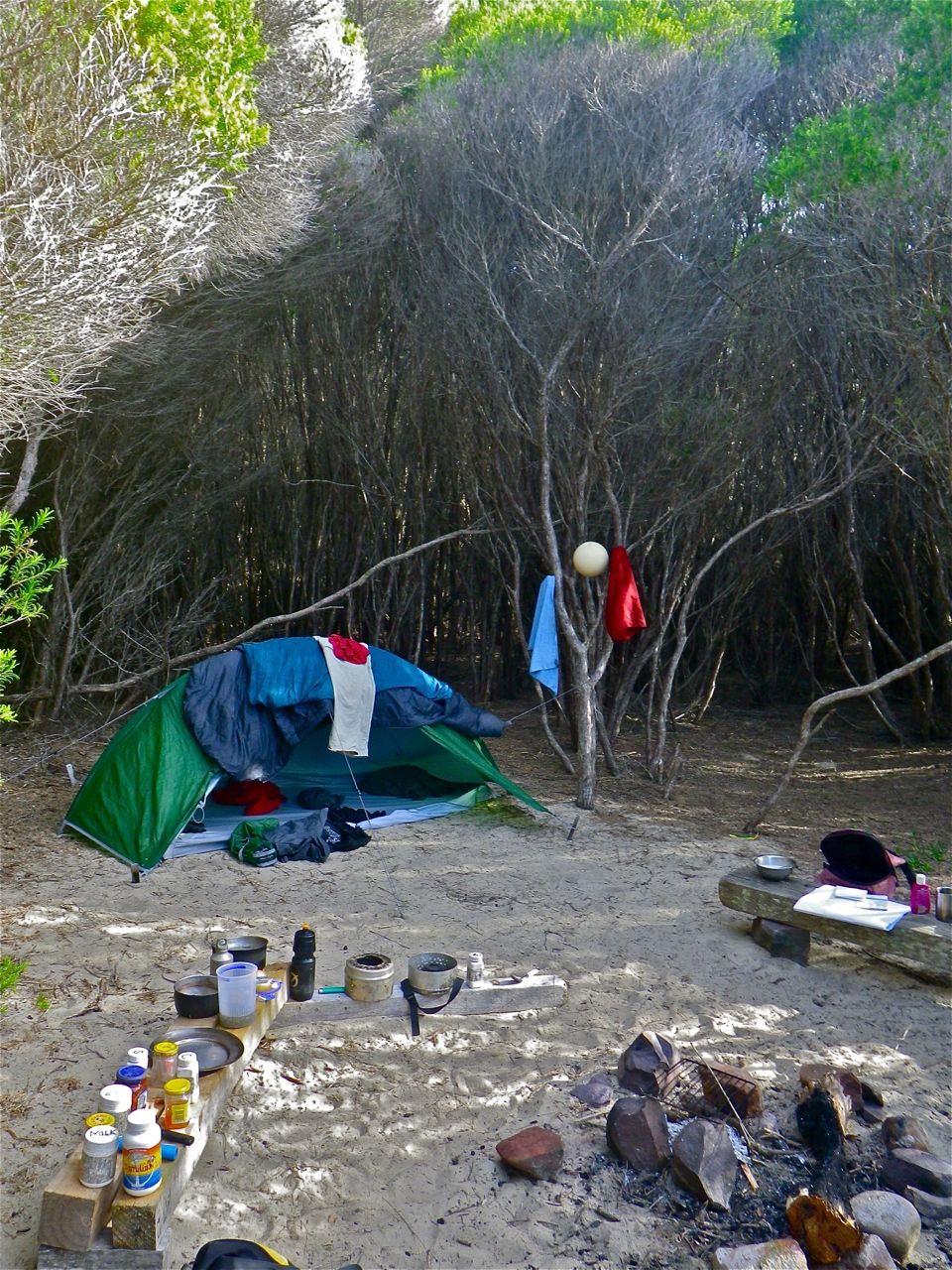 A campsite used by walkers and kayakers
The campsite was patrolled by large red bull ants, and I knew as I walked around mainly barefoot that sooner or later one of them would sting me. One evening I was out on the water floating around in the superb light of gathering storm clouds and suddenly it blew up: thunder and lightning, and then a downpour. I came back to camp in time to secure the tent against the deluge and dig a little drain to funnel the water away from going under my tent and of course I stepped on a bull ant. I had to laugh at the timing.
The slow magic of the uncomplicated way of life seeped into my bones and I didn't mind being marooned one bit. I had plenty of food for weeks if need be, I didn't have fresh water but it was only a couple of hours away from me, a scenic walk with my day pack would bring back 9 or 10 litres, enough for a couple of days.
Next morning, the Victorian weather forecast was warning of gale force winds coming later, so I got going as quickly as I could back out onto the mighty ocean after my 6 day interlude. There was a light NE wind and some swell still, enough to put the odd wave over the deck and soon my spray skirt had dripped enough water through to require pumping it out. The pump had worked after I'd emptied the bit of water I got from copping a couple of waves on the way out to sea through the break, but now it wasn't working: no matter how hard I pumped no water came out. The conditions were ok but the boat was getting heavier and heavier and slewing around in the swell more easily. I looked at Howe beach with the idea of slipping in to beach the boat to see what the problem was, but it didn't look easy, and I didn't want to get stuck on a very exposed beach again so soon after leaving Nadgee Beach.
As I passed the last few rocky shores of Nadgee and past Cape Howe the shore changed to large yellow sand dunes. I passed Conference point and I was in Victorian waters. The boat had become critically heavy and was starting to get very unstable. There was a bit of shelter round the south side of Cape Howe from the worst of the swell, so I pulled off my spray skirt, groped around behind the seat and just managed to pull out my bailing sponge. I learned another important safety lesson, always have a sponge where you can reach it while sitting in the boat. I bailed out a considerable amount of water and had some lunch and a rest and considered what to do.
All was still ok, but the NE wind had dropped off altogether and soon a light sou'easter replaced it. I kept a nervous eye on the weather. It looked very benign with blue skies, only a bit of cloud and no obvious nasty front coming but I had experience of several southerly busters coming through with high winds and generating large waves so quickly in a previously glassy calm ocean. I had no intention of getting myself in a situation in high winds with no bilge pump so I kept near the beach as I continued down towards Gabo Island and marvelled at how different the landscape was: huge rolling sand dunes with little vegetation evident.
I was still at least 13 kilometres from Mallacoota, and I came up to Telegraph point, a shallow point where Gabo island reaches out a kilometre away, once the site of a telegraph line out to the island. I had seen a boat go through the water there an hour and a half ago, but now it looked a bit wild. The tide was getting low and I could see white caps and breakers coming from all over the place. I felt vulnerable without the use of the pump, and the wind had picked up a little so I decided to pull into shore. I got up as close to the point as I could to be sheltered from the SE swell which I knew would accompany the gale that was coming. I watched as I paddled and saw the opportunity of a bit of flat water, and slipped in and onto a wide sand beach about 500 meters from the tip of the point and in the lee of Gabo Island.
I found a little bit of shelter where I thought my old tent would be able to handle some wind behind a few dunes on a dry swamp, very soft and flat. I found a depression in the sand and dragged the kayak over and staked it out securely with sand pegs both sides, fore and aft, facing into the southerly winds to come. I got snug and tight, tied the tent down and went for a walk and discovered there was mobile phone coverage around Telegraph Pt. I caught up with the family who had been a little concerned due to the weather system and size of the swell over the previous week.
In the middle of the night I woke to hear the tent being buffeted around by strong gusts of wind and rain spattering. This continued all night and slowed down a little in the morning and became clear but the wind soon picked up and blew and blew 35 knots or more howling straight down the beach. I began to see just why those sand dunes had come to be there and how they were formed. The SW wind blew straight down the beach all the way to Cape Howe. The kayak looked as though it was riding sand waves when I went to check it; the wind had blown away all the sand under the bow and blown a curving wave of sand around the middle. The cockpit was filling up with sand, it was in everything, blowing in plumes down the beach, filling up the hatches when I took the covers off.
The only way to get away from it was to go for a walk inland behind the dunes, some of them a 100 metres or more high. I had a living geography lesson as I sat in the lee of a dune eating my lunch and sand kept falling on me and I realised it was sand being blown up the front of the dunes in and up into the air to fall on the leeward side which was held in place by grasses and small bushes. The grass anchors and grows over the new layers of sand and the dune gets bigger and slowly moves in the direction of the prevailing winds.
The wind blew all that day and night, dropped off at dusk and dawn and then blew some more. The forecasts I could find predicted the low pressure system to be moving off into the Tasman and the wind dropping, although I couldn't get hold of an accurate forecast for where I was in NE Victoria. Water was becoming an issue again and I didn't fancy trying to find any in this country as it was very dry with rugged vegetation, Banksia forest, tea tree and ticks no doubt. I had been expecting the wind to drop in the afternoon, and thought I would get going early afternoon hoping to have a calm run to Mallacoota or get halfway and camp near Lake Barracoota, the nearest likely water source. The wind had other ideas however, and didn't let up as I was packing, blowing sand into everything and driving me nuts. Trying to load a kayak while holding onto everything which would otherwise blow away and straight out to sea is not easy.
The wind was still 25 knots at least and gusting higher but I was close to some calm water in the lee of Gabo Island and sheltered from the worst of the swell. I decided to go out and have a look at the sea past Telegraph Point, paddling over to the island and staying out of the worst of the wind. When I got over to the island I didn't much like the idea of going through a confused and jumbled passage with waves and breakers going every which way as well as being exposed to the still-howling wind, so I decided to go back out to sea and around the northern side of Gabo, hoping the wind might abate by the time I got around. It was lovely to be out of the wind and in calm water rising and falling in a small swell. I had a good look around and paddled out towards the lighthouse on the eastern side.
As I approached the end of the sheltered water I noticed a 3 metre southerly swell was crashing onto the exposed rocks on the seaward side of the island. The wind immediately tried to turn the boat broadside to it, and I thought- if this is what its like here, what's it going to be like with no shelter at all? Bloody horrible I decided, and there was nothing else to do but turn around and go straight back to where I came from, slightly closer to the point this time.
Then there was the gruelling business of trying to find a good sheltered campsite and unpacking the boat to take what I needed hundreds of metres over the exposed sand into the dunes. It must be one hell of a wild place in a big storm with a high tide and a large swell. It was getting dark and I still needed to find water. The moon was a few days off being full so I knew I would have plenty of light so I took my containers and headed south around the point 4 or 5 kilometres down the beach to try to find Lake Barracoota.
After an hour and a half and the wind finally dying down I found a pole in the dunes and some footprints, and followed them inland over large sand dunes. The moon came out from behind some clouds and I followed the tracks of 2 walkers I had seen going north that morning. It was like a desert, so beautiful in the moonlight.
I had no idea where I was going, just the knowledge that there was a campsite for walkers nearby, and the 2 bushwalkers must have found water somewhere. I could see beyond the silvery dunes to a large dead flat plain of silver. As I got closer I realised it must be water to be so flat, and finally I got there to see reed beds and a sandy bottom. I was almost sure it was going to be brackish it looked so like a tidal pool, but the water was beautifully clear and sweet, so welcome after being thirsty, after not drinking much all day to eke out what I had. I drank my fill and sat and drank in the amazing still clear night, this unlikely looking oasis, so still when a few hours earlier I had been battling a heaving sea and a howling wind. I filled up, drank again and headed off, tired but full of the beauty of the night. I walked back past the rusting skeleton of the SS Riverina lying in the beach break in the ebbing tide. This ship was blown onto the beach after running aground on nearby Tullaberga Island in such a storm as had just blown up.
The next morning I was up early ready to go as early as I could. The forecasts and my instinct was that the wind would drop sometime today and I had a vision of a beautiful calm afternoon paddling to Mallacoota and slipping into the inlet to find a sheltered campsite on the lake.
As I was loading the wind picked up and soon was blowing sand down the beach and into everything again. There were lots of whitecaps out to sea. I thought I would repeat what I had been trying to do yesterday and go over close to Gabo Island and have a look at the passage between it and the mainland. I had been watching the swell and the beach break while I packed and it seemed pretty predictable and quite small here in the protection of the island. I knew there was a fairly gnarly southerly swell out there somewhere, there had to be, and I could see a big rolling swell out to sea.
Thinking the quicker I got going the better I rushed my preparation and the first wave I punched through on the way out through the break loosened the furled sail and mast that I had lashed down on the deck, making one end of it stick out to one side. I was almost out and didn't want to waste time going back in to sort it out, so I kept going. I got out past the break and relaxed a little when a set of big waves appeared out of nowhere about to break on me. I punched through the first one but the drag from the sail poking out to one side pulled me round diagonally to the next wave and suddenly I was going backwards and over so quickly I'd hardly had time to grab a breath. The boat was top heavy from another bad decision where I'd found 5 litres of water at the end that I'd forgotten to put in, and rather than repack the whole rear compartment I put it on top instead of on the bottom, thinking it's only 12 km the wind will drop…
The boat was sluggish to come around upside-down to get into position to roll back up and I needed to breathe so I pulled my sprayskirt off and bailed out of the cockpit. The set coming out of nowhere had unnerved me and I wanted to get out of there before the next set appeared. I pushed the heavy kayak in front of me and swam it out to sea. After a few minutes I felt safer in deeper water and I lashed the mast into place. Once again I learned that the sea is no place for slackness or complacency, any weaknesses will be ruthlessly exposed, and usually at the worst possible time.
After I got things shipshape I slipped down upside down into the cockpit and rolled the boat back up. It took a couple of goes as I rolled straight back over the first time, then I was up wobbling unsteadily with a cockpit full of water steadying the boat with my paddle and pumping with the foot pump I had cleared of the blockage that had troubled me a few days before. So I continued, but had been in the water for more than 10 minutes and the wind had picked up again keeping me from warming back up even though the sun was shining in a clear sky.
I set off through the channel between the mainland and Gabo island, avoiding several lines of breakers and watching very closely. The water was very shallow and the big sets every now and then meant that waves would suddenly break out of nowhere, 400 or 500 metres off shore. I should have gone into a bay on Gabo island and changed into my wetsuit, but I thought I could always put on the goretex jacket and wool beanie I had in a bag on the foredeck. Another bad decision, as the swell was too big, the wind too strong and waves slapping me from every which way. I never felt safe enough to risk taking both hands off the paddle to put on the jacket. I kept getting drenched by breaking waves every 10 minutes and never warmed back up to a comfortable temperature.
So I gritted my teeth and headed off across the bay straight into the wind with the swell rolling in on the seaward forequarter pushing me around for the wind to blow me into the beach. Time and again I would have to paddle straight out to sea nearly 90 degrees from the direction I was heading to get some sea room and get away from the shallow water and big breaking sets. The tide was going out too making it increasingly shallow. You wanted an adventure I told myself not for the first time today.
I was looking to do a hard days paddle. I had had a few long grueling days, but now I was fully fit and the boat was much lighter. I wanted to see just what amount of wind and waves I could paddle into. It felt safe because I was always in easy distance of the beach where it didn't look too bad, and I knew I could camp at Lake Barracoota if it got too much. So I plugged on into it. I thought Tullaberga Island might provide a bit of shelter for a rest and some lunch but I would have to paddle around a fair way to approach it from the right spot and any progress in the right direction was hard earned, so I kept going.
Challenging, character building as they say, not much fun really, maybe easier in a faster, lighter boat, but I plugged on. It must have taken 4 or 5 hours to go the 12 kilometres, (I had lost my watch in the morning capsize), but I bet I paddled much further than that albeit a lot of it sideways. Finally I got to where the inlet should have been but was hard to see exactly. I could have gone over another kilometre or 2 to a boat ramp in the lee of Bastion Point, and had a rest and sussed it out and possibly camped, but I made another hasty decision. I was very cold by now and I just wanted to get out of the wind and get warm and dry.
I'd been watching a spot where I thought there was a rip and water coming out of the lake, and I thought the swell didn't seem to be breaking so much there. I waited for a big set to roll through, then went in at an angle watching what was coming, ready to brace and hoping for a lull so I could duck in. The sea had other ideas, and suddenly a 7 or 8 foot wave reared up and curled over straight on top of me. I put up my paddle into a high brace position but it was futile and I was over. The paddle had copped the full brunt of the wave and once again the only bit of equipment I had failed to overhaul let me down at the critical moment and the blade broke off the shaft. I could see and feel the lack of a blade and with the turbulence all around I couldn't see the other end of the paddle. I got set and tried to roll but with little chance of getting the paddle at the correct angle – it didn't work and I bailed out.
For the second time that day I was in the water. Another big wave broke on top of the boat and I just managed to hang on by the rope lines that run along both sides of the deck. I could see the loose paddle blade bobbing around in the water not far away, but didn't dare let go of the boat. Slowly we were washed in and down the beach several hundred meters from where I'd gone over.
So I finished my ocean paddling in rather inglorious style: dumped on the beach very cold, wet and in disarray and minus a paddle. I was starting to shiver and knew I had to get warm fast. I abandoned any idea of continuing into the inlet and found a small spot in the vegetation just above high water and put up the tent, hung what I could out to dry on nearby bushes and soon as I could crawled into my warm sleeping bag and cooked a meal and hot drink on my stove in the vestibule of my tent. Well, I wanted an adventure!
The next day, feeling very tired, I unlashed the spare paddle and finally limped into Mallacoota, hit the bakery, got a few supplies and paddled off to the north side of the inlet to find a place to camp. It was the day before Good Friday and the Easter holidays, and there were people and noisy power boats everywhere. I was too tired to go very far and paddle further into a slight wind that had sprung up so I settled on the first place I saw that looked likely, and had an easy meal and a couple of beers to celebrate the end of my trip.
I had learned a lot, particularly about how one bad decision leads to another and you can then get locked into a chain of events. When you get cold, and your core temperature drops, it is difficult to think clearly and make the right decisions. I needed to improve some of my gear, particularly paddling clothing. Training is everything, to be able to execute a perfect roll first time absolutely vital. I realised I needed to improve my skills before the next adventure.